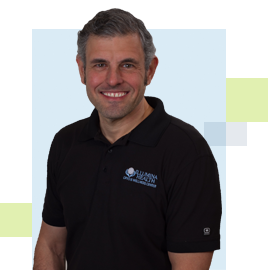 Dr. Dagstani began his medical studies by entering into a nutrition undergraduate program and obtaining a BS degree in Human Nutrition, Foods and Exercise.

It was during his undergraduate nutrition studies that he was exposed to the field of Naturopathic Medicine, and knew instantly that he had found his calling. Not only did the medicine express a profound respect for the inherent healing abilities of the body and base its treatment methods on stimulating those healing abilities, but also based its philosophy and treatment methods on solid scientific grounds – a perfect match.

Naturopathic medical universities focus their education on healing the body through nutrition, homeopathy, physical medicine, herbal medicine, and mind-body medicine, while also educating their students in conventional medical education, such as pathology, anatomy and physiology, cardiology, etc (bastyr.edu).

Dr. Dagstani is pleased that many of his conventional colleagues are gaining an understanding of the power of naturopathic/natural medicine and television shows such as "the Doctors" and "Dr. Oz" are enjoying widespread popularity while basically espousing the core tenets of naturopathic medicine and naturopathic doctors.

Dr. Dagstani joined with Illumina Health after being a patient of the clinic himself. Illumina Health offers its patients a fantastic array of cutting edge treatment modalities, focusing on the exact area that Dr. Dagstani emphasizes as a medical practitioner.. environmental medicine.

Environmental Medicine is a type of therapy focusing on the body's natural elimination pathways by up-regulating them to remove internally and externally produced toxins efficiently. Detoxification is in essence the sum of the processes by which the body rids itself of unwanted materials, both from the environment and from every process in all the organs and systems of the body. Nearly every molecule the body handles needs to be eliminated once it has served its purpose. Doing so involves a deliberate process of rendering the molecule inactive and then safely excreting those molecules from the body. Illness and disease affect the body's detoxification chemistry and if there is something wrong with the detoxification chemistry then any other problems will be aggravated.

Dr. Dagstani and Illumina Health's approach involves a thorough initial visit where your level of toxicity is identified, whether metals or carbon based. After a complete assessment of your case, an individual treatment plan is formulated to meet your body's needs to remove the toxins causing your symptoms and to prevent them from returning in the future.

Dr. Dagstani identifies the toxins, and Illumina Health assists the patient in ridding the toxins, on a true cellular level, through its extensive array of modalities available at the clinic.

Dr. Dagstani and Illumina Health look forward to assisting you in attaining optimal health and wellness!

IV nutrient therapy
Intramuscular injections
Chelation therapy
Ozone therapy
Ultraviolet blood irradiation
Low level laser therapy
Pulsed electromagnetic therapy
Exercise with oxygen therapy
Colon hydrotherapy
Whole body and localized cryotherapy

Near and far infrared heat and light therapy
Leg and full body compression therapy
Massage and Fascial Stretch therapy
Thai Massage
Low dose naltrexone therapy
Nebulized glutathione therapy
Bio-identical hormone therapy
Peptide hormone therapy
Wilson's temperature syndrome treatment
Thyroid treatment