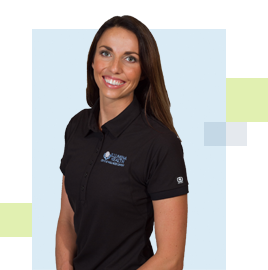 A lifelong learner and practitioner of holistic medicine, I graduated from Kansas State University with a Bachelors in Animal Science, then attended Palmer College of Chiropractic where I earned my Doctorate.

I focus treating patients as individuals and supporting the normal physiology of the body. Symptoms are a manifestation of the cause, so I look for the source of the dysfunction. Once the source is identified, a specific treatment plan is chosen using whichever technique is most appropriate. Patient education is part of the course of treatment as I promote health and wellness as part of our practice. My goal is to help individuals maximize their health and function at their optimum capacity.

Depending on the patient's main complaint, one or more techniques may be utilized. If I am not the best provider for that individual case, I will refer my patient out as appropriate.

As a provider, I have a variety of different techniques that can be utilized for care. Along with the Palmer Package, I have acquired certifications as a Full Body and Long Nerve Entrapment A.R.T. (Active Release Technique) practitioner, Graston Technique practitioner (instrument assisted soft tissue tools), and as an Applied Kinesiologist. I have also gained extensive knowledge in S.O.T. (Sacral Occipital Technique), Activator Method, Integrative Diagnosis, and nutrition.

I have grown up studying and utilizing nutrition and have learned the value of supporting the body's natural physiology in order to maintain optimum health. As a doctor, athlete, and a lifelong patient of chiropractic care myself, I have personally seen the benefits of how holistic healthcare can change lives for the better and empower patients to take control and improve their quality of life tremendously. Chiropractic and holistic healthcare is my passion, and I truly enjoy continuing to study the subject and techniques.
My experience in practice has varied from professional athletes, geriatrics, children, and pain management. I am very excited to be a part of the Health Inside Out team. My attraction to this clinic began the moment I walked in. I realized this is a place where I want to be a patient. Every member of the team shares the same values and goals, helping patients to reach their optimum health and vitality, enabling them to truly live life to the fullest.

After growing up all over the country, I am happy to call Phoenix home. In my free time I enjoy spending time with my family and friends, playing sand volleyball, cooking, reading, working out, and traveling.
---
Guided PEMF Electrons Plus: like a battery, the human body is electric. Our cells carry voltage. The electric charges necessary to maintain optimum health in our cells can decline from age, injuries and illness. Electrons Plus is a unique device that utilizes Pulsed Electromagnetic Field Therapy (PEMF) to restore this healthy electrical balance within the body.

According to Dr. Jerry Tennant, MD, author of Healing is Voltage, in order for our body's tissues to heal and create new cells, the required cell voltage must be -50mV. With Electrons Plus, the practitioner can guide this electromagnetic pulse into the patient's body, thereby stimulating the healing process.

Electrons Plus can be used both for therapy and as a diagnostic tool. The device is able to measure muscle reactivity to assess a patient; Healthy muscles will react by twitching, while damaged or injured tissue will not be as responsive. Often, the muscles of aging or unhealthy individuals will not twitch as much.

By passing the energy field through muscles with Electrons Plus, the practitioner can evaluate muscle reactivity to determine where decreased voltage or healing blockages exist in the body.

ART (Active Release Technique): is a patented, state-of-the art soft tissue system / movement-based massage technique that treats problems with muscles, tendons, ligaments, fascia and nerves.)
ART/PEMF: Passing the energy field through muscles with Electrons Plus, the practitioner can evaluate muscle reactivity to determine where decreased voltage or healing blockages exist in the body.)

Chiropractic Adjustment: is a specific force applied towards the structural framework of the spinal segments and/or extremity articulations to correct biomechanical, neurologic, and musculoskeletal dysfunction within the human framework to optimize health and proper function of the body.

Graston Technique: is an innovative, evidence-based form of instrument-assisted soft tissue mobilization that enables clinicians to detect and effectively break down scar tissue and fascial restrictions, as well as maintain optimal range of motion.

Shockwave: is an acoustic wave which carries high energy to painful spots and myoskeletal tissues with subacute, sub chronic and chronic conditions. The energy promotes regeneration and reparative processes of the bones, tendons and other soft tissues. Shockwaves are characterized by jump change in pressure, high amplitude and non-periodicity. The kinetic energy of the projectile, created by compressed air, is transferred to the transmitter at the end of the applicator and further into the tissue.

TMJD Treatment: diagnosis and treatment of the jaw utilizing a combination of manual therapies and adjustments to correct the underlying soft tissue and joint dysfunction in order to decrease pain and increase range of motion of the TMJ.