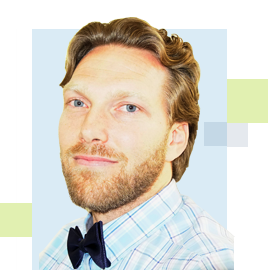 Hi, Steven Sabatier here, you can call me Steven. Most folks at Health Inside Out call me Doc or Dr. S. The Arizona State Naturopathic Physicians Medical Board licenses me to practice medicine as a Naturopathic Medical Doctor- NMD. This allows me to diagnose and treat patients with a full scope of conventional and alternative modalities. The Arizona Department of Health Services further certifies me as a Medical Director.

I was born and raised in Louisiana, where I completed my Bachelor of Science in Pre-Medical Biology and Chemistry. I then went on to complete my Master of Business Administration in Healthcare Administration. It was during this time that I became aware of the USA's health ranking amongst world averages. I was surprised to learn that, despite our above-average healthcare spending, we have higher than average incidents of chronic disease such as diabetes, obesity, and cardiovascular conditions, coupled with a lower than average life expectancy. This knowledge led me to seek a deeper understanding of human health and therefore redirected my path to look for a different kind of medicine than the standard allopathic model of care.

Looking beyond my opportunities to attend either MD or DO school, my best friend, who is my wife, introduced me to The Southwest College of Naturopathic Medicine. SCNM is what brought me to Arizona in 2009, and we have made our home here ever since. In my training at SCNM, I learned how the human body works, and to listen to symptoms such as limitations, pains, and malfunctions as signs that guide us to an underlying cause. Addressing these underlying factors, while ensuring the body has the nutritional resources it needs, allows healing to occur from the inside out. It's a simple formula that goes like this: When we give ourselves enough of what we need (such as nutrients), while reducing what we don't need (such as toxicants), we allow our bodies to function more optimally. As a result, we experience greater expressions of health and wellness. Changing those factors changes our results. We are doing the best we can with what we have.

Health Inside Out offers a variety of unique modalities that can support and enhance our bodies' ability to detox, heal, and experience wellbeing. Together, you and I can utilize the best of medicine's scientific history and nature's healing abilities to better care for your health. Some of our patients want to finally get a solution that works, so they can begin to feel better. Others want to be preventative and ensure they maintain optimal health. Some want help customizing their health plan, amongst all the options available. Whatever your needs, I am here to assist your healing from the inside out.