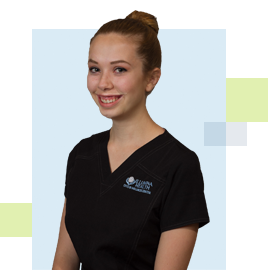 I am a licensed massage therapist who specializes in a multitude of different techniques. My training began at Cortiva Institute of Massage Therapy, where I received my license in 2017. I currently hold certifications and special training in burn scar, Chi Nei Tsang (an eastern abdominal technique), prenatal massage, as well as PEMF (Pulsed Electromagnetic Field) therapies and many more to come. I am continuously looking for more opportunities to expand my scope of practice to better empower and impact my patients.

My sessions begin with detailed hands on examination of the body followed by medium to deep work at the source of the given complaint.

I first came to Health Inside Out as a patient and immediately fell in-love with the practitioners and the caring ambiance. Every member of the team cares deeply about every patient's entire well-being, even if that means referring the patient to another practitioner for a treatment they are unable to provide themselves.

I choose to pursue a career in massage therapy after a traumatic event in 2010, where my family and I were involved in a plane crash. I lost both my mother and brother in this tragic event, while my father, sister, and I were left with severe injuries requiring reconstructive surgeries and two years of rehab. The recovery was strenuous and lengthy with multiple physical therapy visits and many surgeries. The one recovery protocol I found most helpful and looked forward to was my weekly visits with my massage therapist. Not only was my therapist and reiki practitioner majorly improving my pain and discomfort, she became my sounding board throughout my healing process. Even now, 8 years later, I still receive work from her.

Massage became such an intricate part of my family's healing process and dramatically improved our quality of life. This experience left me forever changed and inspired me to pursue a career in massage therapy in order help those who are also suffering. I consider it a privilege, that I am able to fulfill my passion of helping others with something that made such a huge impact on my life and the life of my loved ones.