Graston Technique is an innovative, evidence-based form of instrument-assisted soft tissue mobilization that enables clinicians to detect and effectively break down scar tissue and fascial restrictions, as well as maintain optimal range of motion.
Treatment Time
15-30 Minutes
Individual treatments are tailored to each patients unique needs.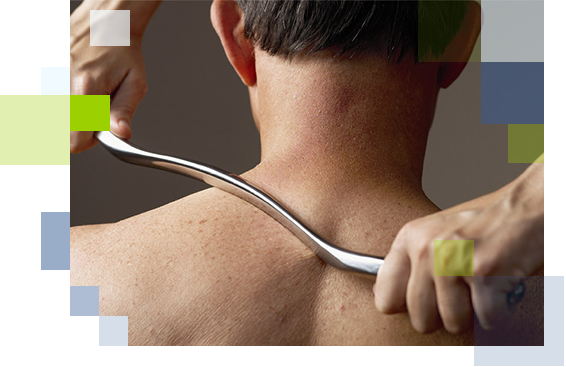 More Information about the Graston Technique
The Graston Technique® is a modification of traditional hands-on soft tissue mobilization that uses specifically designed instruments to allow the therapist to introduce a controlled amount of microtrauma into an area of excessive scar and/or soft tissue fibrosis. The hope is that this will invoke an inflammatory response that will augment the healing process. It is also intended to reduce the stress on the therapist's hands.

The general goals of the therapy are to reduce the patient's pain and increase function through a combination of:
Breaking down the scar tissue and fascia restrictions that are usually associated with some form of trauma to the soft tissue (e.g., a strained muscle or a pulled ligament, tendon, or fascia).
Reducing restrictions by stretching connective tissue in an attempt to rearrange the structure of the soft tissue being treated (e.g., muscle, fascia, tendons, ligaments).
Promoting a better healing environment for the injured soft tissue.