A method of cold therapy involving a few minutes of skin exposure to temperatures between -200°F to -250°F significantly improving recovery time, helping treat skin conditions, and much more.

This form of cryotherapy is confined to the face.
Treatment Time
10 Minutes
Individual treatments are tailored to each patients unique needs.
More Information about Facial Cryotherapy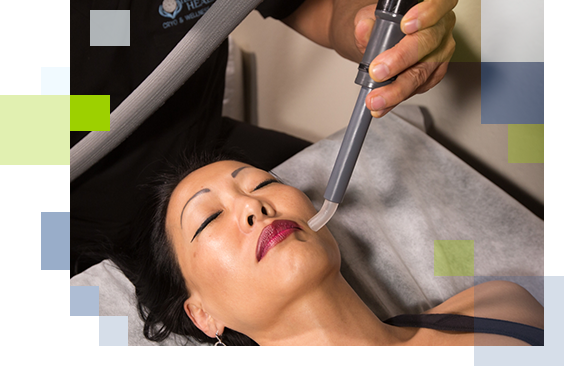 The Cryo Facial treatment is non-invasive and pain free and works through means of Cryotherapy or "freeze therapy".The skin is rapidly cooled, using a beam of vaporized liquid nitrogen, to well below freezing in a matter of minutes using a revolutionary 'cryo-probe'. This leads to a tightening of the microcirculation blood stream, known as vasoconstriction, and then dilation of blood vessels and capillaries which helps to flush toxins and impurities away from the skin.The process works to contract the skin and accelerate microcirculation which supports better oxygenation of dermal cells, encourages collagen production and helps to detox and rejuvenate the skin.

The Cryo Facial treatment has numerous benefits including:
Restoring firmness and radiance
Helping to reduce pigmentation or uneven skin tone
Helping to rejuvenate fatigued skin
Increasing skin radiance
Improving skin texture and tone
Lightening scars left from acne
Soothing inflammation
Treating skin conditions such as eczema
The treatment only takes 10 minutes and the results are immediate and there is generally no post treatment downtime or after effects. The Cryo Facial can be conducted as a one off treatment but the best results will come with repeat applications. What's more it can be taken as a stand alone or with other treatments, such as Mesotherapy.